After leaving Washington State to explore, once again, we drove through Washington and Oregon (where we woke up one morning to 10 degrees outside and, wait for it . . . 37 degrees inside our bus) and quickly drove south. Once in California, we visited old friends from home who graciously hosted us for the night and acted as tour guides through Redding (Thanks Tom and Helen—it was great!) then we hit "the 101" that's how Californians say it, to get to highway 1 and experience the glorious California coast.
Along the way we drove through the Avenue of Giants in the Redwood Forest and stood in amazement at the mere size and age of some of those living wonders.
The views on highway 1 were as stunning as they look in the movies. The only thing missing was a sports car with the top down, driving way too fast for the curves, with a dark-haired man at the wheel and a blonde woman with large sunglasses and a silk scarf covering her hair and tied softly under her chin trailing behind her while she rode shotgun. While I didn't see that, I did see lots of RVs with RV4RENT plastered above the door and CRUISEAMERICA.com above a huge wrap of mountain or desert landscapes on the back. Not as glamorous as the movie star in a convertible image but much slower drivers.
The views from high above the ocean and the sharp cliffs that led there were as beautiful as they were terrifying for a girl with both a fear of heights and vehicles. If you're wondering what would possess a man to take a woman like that on a five-year road trip—so am I. (Check out my first blog post for more insight Call Me Crazy! – Travelin Old Scool) Kevin is the most patient man a girl with severe anxiety and a touch of crazy, could ask for.
In spite of my anxiety I was able to soak in and appreciate the beauty of Big Sur, Glass Beach, the Pacific grove butterflies, San Francisco, Joshua Tree, and so much more.
We eventually arrived at the home of my cousin, Claudia, in Goleta. My cousin is a beautiful woman with an impeccable sense of style. I am nether. I am an older woman who lives in a school bus—any day I don't look homeless I count as a win. My cousin is also a charitable woman and by the time we reached her doorstep, she already had a closet full of new clothes for me to try on. After a fun modeling session, I chose a few items, and we made plans to go on a thrift store shopping spree. Thank you, sweet cuz. Of course, I still live in a bus, so I left most of my old clothes with her, to donate, burn, whatever.
We spent a great week with my cousin and her husband and were invited to Thanksgiving dinner at her friend Heidi's home.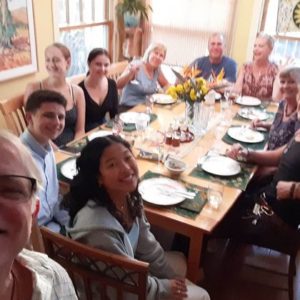 Then we got to Santa Monica and discovered—Route 66!
When we left the PanAm in Calgary Canada we knew our route was going to look a little different than we originally thought so we were open to any new adventure that might pop up while we circled back to Calgary. Kevin didn't seem 100% enthusiastic about Route 66 at first, but our first 66 museum and an immersion into nostalgia and he was completely on board (especially when we discovered it ran through the heart of the Mojave Desert). We had so much fun stopping at every landmark and even grabbed a map that explained the history along the way. Some places were in ruins and were barely recognizable while others were still open for business. We most assuredly got our kicks!
We left California on December 4, 2022, and after a brief stop in Las Vegas, crossed into Arizona.
Arizona stats coming soon . . .
California Stats:
Days spent: 30
Miles driven: 1,980
Daily average: 66 miles
Fuel costs: $1,060.44
Daily average: $35.34
Lodging costs: $158
Daily average: $5.20 (Yay for boondocking and dry camping)
Miles driven as of January 24, 2023  (266 days on the road): 14,608 miles