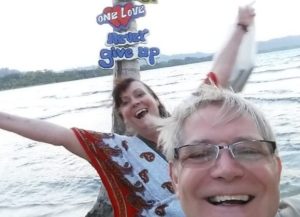 HI! We're Kevin and Andi—old married couple, travel partners and best friends. We have been to thirty-five countries together and a few more apart from one another (sad). We have been together since 1983 and married since 1987. I know, since the olden days.
We have four children and eight grandchildren (each of the grandchildren painted a tile that we put on the entry steps to the bus).
We have always been travel addicts and didn't let having children slow us down. We have been traveling with our kids for two-to-six-week vacations since they were very small. When our youngest, Rachel, graduated from high school, we decided that was no longer enough, so we did what seemed perfectly sane at the time, we sold everything and bought one-way tickets to Cairo Egypt. We spent the next two years backpacking around the world. Rachel joined us for the first fourteen months of the trip, and we were sad to see her go when she returned home for school. That trip is what sparked the idea to start our own travel company www.kendiworldadventures.com/ AND to write a book No Return Ticket at Amazon
A lot has happened since then—we bought and renovated an amazing house on the banks of a river, bought and renovated a 2002 Thomas short bus, and now it's time for our next adventure. The Panamerican journey from Prudhoe Bay, Alaska to Ushuaia Argentina.