An·chor·age
1: an area suitable to put out an anchor
2: The condition of being locked to a base 
I never expected to get anchored anywhere so soon into our trip. But fate had other ideas.
Coming down off the Dalton Highway on our way back to Fairbanks, we fueled up at Yukon camp. While idling in the gravel parking lot afterward, Tomás died. We thought it curious, and Kevin casually mused that he hoped there wasn't water in that diesel.
Without much incident we made it back to our old Fairbanks stomping grounds—the Walmart parking lot—and met our friends Sonja and Klaus, from Austria. We had another pleasant evening chatting and sharing a toast to safe travels, and then we set out the next morning for Denali (yes, Denali, not Mt. McKinley—that's another messed up, white nationalist story).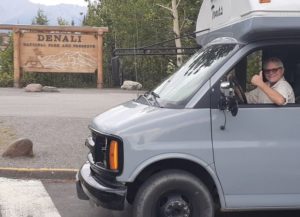 Denali was spectacular! Even though, thanks to smoke and clouds, we didn't actually see the namesake mountain (only 30% of tourists do), the park was beautiful. We took a "hop-on-hop-off" style bus and did a couple of wonderful hikes. All with our bear spray securely attached to Kevin's belt.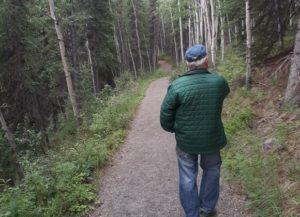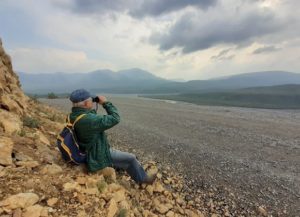 We even watched a dogsled demonstration, where the dogs pulled a cart instead of a sled, because, well, it's July. To be honest, I wasn't overly excited to see it. I have lived and learned about animals being used commercially, which is why I will never visit the tiger sanctuary in Thailand and why we carefully vet—even visiting where the animals are kept, treated and handled—all of Kendi World Adventures' wildlife interactive excursions. But when the ranger talked about the dogs and I saw where they lived and how friendly and healthy they were, my concerns diminished. Then, when the demonstration began, it was clear that this was not something the dogs were forced to do, but rather something they loved to do. Those dogs came alive. They were so happy to be active and part of the team. The dog sled demonstration at Denali is something I would highly recommend—and it's free.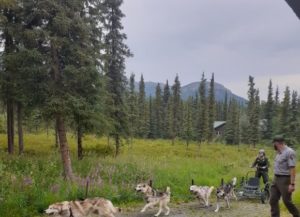 After Denali, the bus seemed to run okay if we kept the speed up, and we made it to Talkeetna with little problems.
Talkeetna is a quaint little town which was the inspiration for the main street setting for the TV show "Northern Exposure." It was clear to see why and picturing a big bull moose sauntering down main street was easy to do. We were finally getting into seafood country and had a wonderful salmon burger.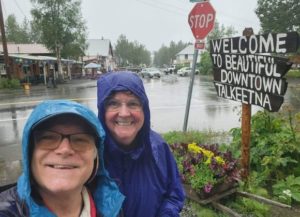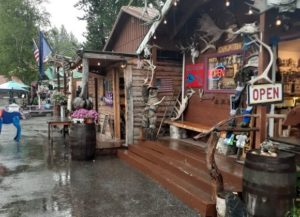 The next day, however, things started to go downhill fast. I mean that is every sense of the word. The cousin mountain ranges of Denali created a roller coaster road trip between Talkeetna and Anchorage. If Kevin kept his foot on the gas pedal, we were okay, but letting off even for a second caused the engine to die, so going uphill was fine, but going down was a different story. No matter what the grade, we had to be sure the rpms were up, so Kevin would either have to constantly keep pressure on the gas pedal and fly down the hills or put the bus in neutral and rev the motor while we coasted. Those who know me know that gong fast is not my thing, going fast downhill and around curves may very well trigger serious anxiety, so this was not fun for me at all.
At a stop light in Wasilla, we died, and the bus refused to start again. Some very friendly Wasilla-ites hooked up a pickup truck and towed us to the side of the road. After several tries at starting the motor, I remembered that I had seen a towing and repair shop some distance behind us. I called and spoke to a lovely woman who suggested that instead of towing it back to them I should call Dennis. She spoke as if I should know Dennis personally and said he would come to us and could do a remote repair. Kevin called our "friend" Dennis and discovered his shop was near to where we were stalled. After several attempts, the bus roared to a start and we limped—or rather, revved—our way to Dennis' garage.
Dennis was a "good 'ole boy" who seemed to have extensive knowledge of diesel rigs. Our new friend determined we had water in the fuel. Kevin's joke in Yukon camp didn't seem so funny now. He gave us some additive to put in the tank, suggested we stay the night at Otto Lake just down the road and take it to Anchorage to empty the tank. This was on a Friday evening.
That night we stayed at the stunning Otto Lake.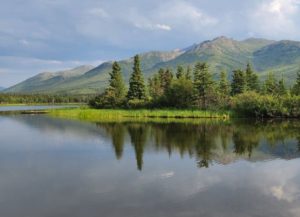 The next morning we got a message from Sonja and Klaus—they were in Anchorage and had found a lovely park to boondock.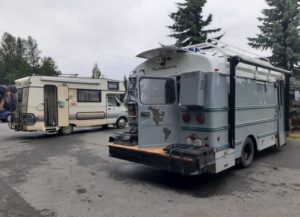 After dozens of phone calls, we conceded that nothing would be open until Monday and made our way to Anchorage on Saturday morning. We spent a lovely weekend with Klaus and Sonja hiking, sharing meals, and solving the problems of the world over a nice glass of wine. We were not prepared for what would come next . . .
Part 2 coming soon.